Hello Friends and a happy Groundhog's Day to you all! Punxsutawney Phil didn't see his shadow today so here's to an early spring arrival. Can I get a heck yeah?
It's my favorite time of the week again and I can't wait to see what you're all cooking up, so with no further ado...

http://enjoythislifeofours.blogspot.com/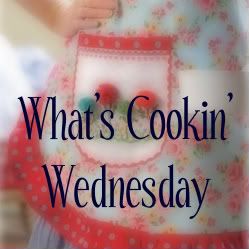 What's Cookin' Wednesday is my blog hop that mixes two of my favorite things: Cooking and gaining new followers. I get so tired of making the same recipes over and over again and I am looking to you, bloggy friends, to help spice up my kitchen. Here's how it works:
1) Must be a "This Life of Ours" follower to join

2) Blog about what's for dinner in your house or share an old post with a recipe that you love!
3) Scroll down to the bottom of this blog post and click on the link to enter.
4) Post your recipe (with the title of your blog) and you're ready to go!
5) Every Sunday night I will (try to) make one of the entered recipes and blog about it.
(entries must be in by 12:00pm on Saturday)
And here's what I'm cooking up this week:
California Style Scallop Quesadilla
(serves 1 really hungry girl)
This is a recipe that I made up this week that stays in program with Weight Watchers (remember my
muffin top
?). I started the program about two weeks ago and I can't tell you enough about how much I LOVE it! I hardly feel as if I'm dieting at all. This recipe is
10 points
but is super filling, tasty and easy to make!
Ingredients:
1/4 red bell pepper chopped
1/3 small avocado chopped
1/8 red onion chopped
1 small mango chopped
2 tbs cilantro chopped
1 la tortilla factory tortilla
1/4lb scallops
lime juice (to taste)
1tbsp fat free sour cream
How to:
1. Put all veggies and fruit (minus avocado) and lime juice in a pan and cook until heated through
2. Cook scallops on a skillet (about 2 minutes per side
3. Put tortilla on pan and cook until slightly golden, flip and put cheese on top
4. Add scallops cooked veggies and avocado to tortilla. Close and cut
5. Use remaining veggie mix for the side dish.
6. Top with sour cream
Delicious and easy!
So, what are you cooking up this week?