Hello lovely bloggers! Are you snowed in like much of the country? Perfect time to get cooking on a brand new recipe don'tcha think?
What's Cookin' Good Lookin' is my attempt at a blog recipe exchange. I get tired of making the same things over and over again, and am looking to my blog friends to help spice up my life...in the kitchen. So please participate in this recipe exchange in return for some great recipes and new followers!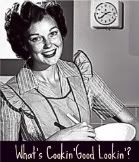 1) Must be a "This Life of Ours" follower to join

You can follow by clicking on the "follow" button over there ------>

2) Blog about what's for dinner in your house or share an old post with a recipe that you love!
3) Scroll down to the bottom of this blog post and click on the link to enter.
4) Post your recipe (with the title of your blog) and you're ready to go!
5) Every Sunday night I will make one of the entered recipes and blog about it.
(entries must be in by 12:00pm on Saturday)
***For extra super cool bonus points, please put a link to What's Cookin' Good Lookin' in your blog post to help get more bloggers and recipes to join! Our kitchen's are about to get a lot more fun!***
*** If you try a recipe, please comment and let us know how it was ***
Thank you for your participation and sorry I didn't make one of your delicious recipes this week. I hope you forgive me. This bathroom has us booked up the wazoo. We are at work until 5ish each day, come home, and work until 10-11 on the bathroom. I kid you not. I'm exhausted!
We took a break Saturday night and I had the chance to make a delicious meal which was inspired by Many Waters Pot Pie. I'm going to go as far as to say that this is one of the best meals I've ever made. For reals...
So, with no further ado...
This recipe is from www.food.com (my favorite site ever). I made it as is except I substituted the carrots for peas and mushrooms. This isn't a very healthy recipe, but for a once in a while winter meal, it hit the spot.
What are you cooking up this week?