How's it going lovely friends? If you haven't noticed, I've revamped What's Cookin' Good Lookin' a bit. I have a new title and a brand spankin' new button that I made (Thanks
Ms. Meg
for teaching me how!) I hope you are cooking something great up this week- I sure am... well kinda!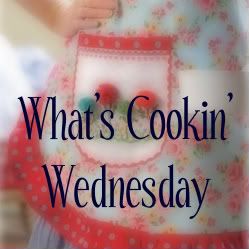 What's Cookin' Wednesday is my newly developed blog hop that mixes two of my favorite things: Cooking and gaining new followers. I get so tired of making the same recipes over and over again and I am looking to you, bloggy friends, to help spice up my kitchen. Here's how it works:
1) Must be a "This Life of Ours" follower to join

2) Blog about what's for dinner in your house or share an old post with a recipe that you love!
3) Scroll down to the bottom of this blog post and click on the link to enter.
4) Post your recipe (with the title of your blog) and you're ready to go!
5) Every Sunday night I will (try to) make one of the entered recipes and blog about it.
(entries must be in by 12:00pm on Saturday)
Here's what I "cooked" up tonight...
Banana Fluffernutter (BFN)
I understand that a BFN is not exactly cooking, but we're looking for delicious recipes right? No one ever set the rule that you have to use an oven, microwave, stove etc. for it to count. Don't judge me. If you've never tried a BFN, you really have no idea what you're missing. Please hop on the bandwagon now.
Here's what you need...
Peanut butter (I prefer creamy)
Marshmallow Fluff
1/2 banana
2 pieces of bread to your liking (We use honey wheat).
Here's what you do...
1. Smear your desired amount of PB on one side of the bread
2. Smear your desired amount of Fluff on the other
3. Slice the banana fairly thin and put pieces on sandwich
4. Close sandwich and cut (I prefer diagonal :)
5. Eat, and wonder how you've lived this long without a BFN.
Do you have any favorite lazy yet delicious meals? I'd love to hear them! Can't wait to see what you're cooking up this week!
PS- Please grab my button if you participate to try and bring new friends. Let's make this recipe swap grow!