It's that time of week again, my friends. Time to get cooking! Please spread the word about our recipe exchange to get more participation.Can't wait to see what you're all cooking up this week!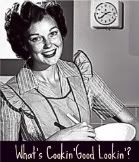 What's Cookin' Good Lookin' is my attempt at a blog recipe exchange. I get tired of making the same things over and over again, and am looking to my blog friends to help spice up my life...in the kitchen.
1) Must be a "This Life of Ours" follower to join

You can follow by clicking on the "follow" button over there ------>

2) Blog about what's for dinner in your house or share an old post with a recipe that you love!
3) Scroll down to the bottom of this blog post and click on the link to enter.
4) Post your recipe (with the title of your blog) and you're ready to go!
5) Every Sunday night I will make one of the entered recipes and blog about it.
(entries must be in by 12:00pm on Saturday)
***For extra super cool bonus points, please put a link to What's Cookin' Good Lookin' in your blog post to help get more bloggers and recipes to join! Our kitchen's are about to get a lot more fun!***
*** If you try a recipe, please comment and let us know how it was ***
Now for this week's contribution:
3

tablespoons

butter

3

tablespoons

extra virgin olive oil

1

small

diced onion

4

cloves

garlic, minced

1

pinch

crushed red pepper flakes

1

tablespoon

lemon juice

1

teaspoon

oregano

1

teaspoon

basil

1

tablespoon

Old Bay Seasoning

3

cans

minced/chopped clams, with juice

parmesan cheese

1

lb

linguine or

1

lb

thin spaghetti

1 head of broccoli cut up fine (optional)
How to:
Heat water to a boil and cook pasta.

While the pasta is cooking, melt butter and olive oil in pan.

Sautee onion and garlic, and add crushed red pepper flakes.

Add lemon juice, oregano, basil, and Old Bay seasoning, stir for one minute Add clams with juice and broccoli.

Simmer for 5 minutes.

Drain pasta and place in large bowl.

Cover pasta with clam sauce, stir well and top with parsley and parmesan cheese.
So simple and kinda fancy! Enjoy!
Now, it's your turn!