It's that time of week again, my friends. Time to get cooking!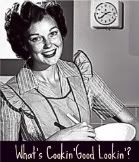 What's Cookin' Good Lookin' is my attempt at a blog recipe exchange. I get tired of making the same things over and over again, and am looking to my blog friends to help spice up my life...in the kitchen. So please participate in this recipe exchange in return for some great recipes!
1) Must be a "This Life of Ours" follower to join

You can follow by clicking on the "follow" button over there ------>

2) Blog about what's for dinner in your house or share an old post with a recipe that you love!
3) Scroll down to the bottom of this blog post and click on the link to enter.
4) Post your recipe (with the title of your blog) and you're ready to go!
5) Every Sunday night I will make one of the entered recipes and blog about it.
(entries must be in by 12:00pm on Saturday)
***For extra super cool bonus points, please put a link to What's Cookin' Good Lookin' in your blog post to help get more bloggers and recipes to join! Our kitchen's are about to get a lot more fun!***
*** If you try a recipe, please comment and let us know how it was ***
Now for this week's contribution:
Since tonight is the first night of Chanukah, I would usually make potato latkes. These fried lovelies stink up a house, are time consuming to make, and fill out a waistline but are worth every fried bite. They are so delicious and a one time of year indulgence. Since I'm sick and the hubs is away, latkes will have to wait until he gets home, but you lucky ducks can have my super easy and delicious recipe.
Happy Chanukah Latkes
(feeds about 4 people as a side dish)

3 large yukon gold potatoes
1. Clean and peel potatoes
2. Using a food processor, shredd potatoes and onions. There should be an even ratio of potato to onion, or slightly less onion.
3. Mix potatoes and onions with egg and a little bit of flour until the mixture holds together.
4. Season with salt and pepper to taste
5. Heat oil in an electric frying pan. Do not splatter or overheat!
6. Add small scoops of potato mixture to oil and fry until you get desired temperature. (I prefer less cooked latkes, while many love them crispy!)
7. Remove from oil and blot with paper towels.
8. Serve hot with apple sauce or sour cream.
Now it's your turn. What are you cooking up this week?